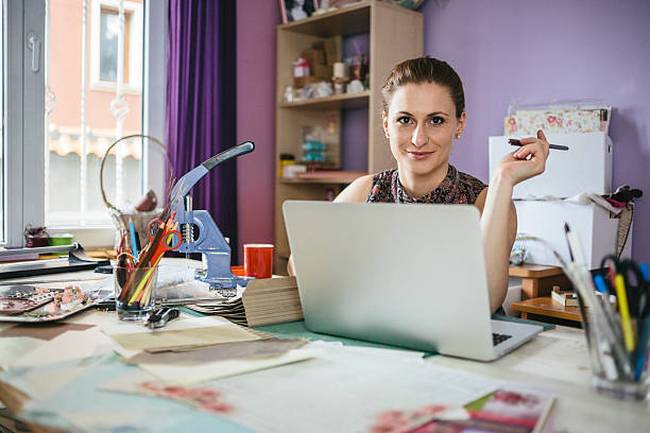 For many moms, the only way to run a business is to start one from home. When you're raising your family, you simply don't have the time for the stress of a commute and a long workday. The only viable option to mix your business with your home life, allowing you the freedom to do the work you want while still providing the care your family needs.
There is, however, the occasional downside to this way of living and working. Perhaps the toughest aspect to balance is that your home needs to transform itself into a place of business. For most work from home moms, that means dedicating a room — or at least an area of a room — to become the office. Some moms even dedicate an entire room to perform their business services; beauty salons, for example, are popular in-home businesses, as are counseling and massage businesses.
If you run one of these businesses, then you have to balance the fact that you want your home to look like a home, but it also has to look like a reputable place of business. Below are a few tips that can help you achieve just that.
Exterior
Try to limit outdoor children's toys and play sets from front of your home; they can make a garden look cluttered.
If your driveway is not in the best condition, contact Hardrives Construction or similar companies to smooth over the issues. Clients are not going to want to park or walk on uneven surfaces, so remedying this problem is essential for the professional image you want to portray.
Use some kind of signage for your business on the front door. If the door looks too residential, with no mention of the business, then clients may think they have the wrong address. A small sign on the door, near the doorbell, is sufficient.
Interior
Consider a dedicated entrance for the business, so you do not have to worry about kids' shoes or toys cluttering hallways.
If you cannot provide a dedicated entrance, use the room that is the shortest distance from the front door as your business area. This may mean repurposing your living room, but you can always move this space upstairs.
Close all other internal doors when you are with a client; they do not need to see your busy kitchen or your laundry room!
Additional Thoughts
Noise control is an important aspect of a home-based business. If your kids are going to be at home while you are with clients, they should (ideally) be outdoors or in their own rooms. If there is a problem, just calmly excuse yourself from your client and tend to your children outside of your business room– this helps protect your professional demeanor.
Limit any clutter from your business room. It is fine if your house is a little cluttered — you do live there, after all! — but the business space should be clean, well managed, and clearly dedicated to a specific purpose.
In conclusion
Turning an area of your home into your center of business is never simple, but the tips above should help you navigate this tricky conundrum with ease!