Note: This contest had already ended. Thanks for joining!
Want to try your luck in giveaways? Here's the chance! If you're a US resident, then join Super Special Saturday 4 Hour Flash Giveaway today (May 19) between 7:00PM to 11:00PM EST for a chance to win the $18.00 Walmart Gift Card/Paypal credits.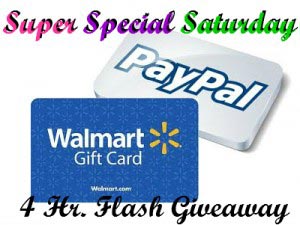 This flash giveaway is hosted by Carmen's Coupon Blog and Shawnies Samples & Savings. This week's special sponsor is Mommy's Money Saving Madness while the following are the sponsors: Coupons, Coupons, Coupons,Promoting It! Giveaway N Sweeps, Work at Home Wife and Mother, Enchanted Savings, Zoes Printable Coupons, Donna's Deals and More, Long Island Coupon Queen and Coupon Nurse.
Join via the Rafflecopter widget below. If you're having issues with the Rafflecopter, please just keep refreshing until you are able to enter.
a Rafflecopter giveaway

The winner will be announced on the Rafflecopter in this same post by 11:59PM. If you are the winner, contact the host, Carmen, at carmen.uballe@yahoo.com within 24 hours to claim your prize or a new winner will be selected. You will then receive an email (View A Sample Of The Email) and you must agree to the Terms and Conditions in this email before she can send you your prize (no exceptions).
Announcement For Bloggers Only
Click here if you would like to join in any of our 4 Hour Flash Giveaways —> To Join FB Group Giveaway Extravaganza

If you would like to sign up to join one of these future events Click Here Now. All requests to join this group will be reviewed, verified, and then accepted.
Good luck everyone!