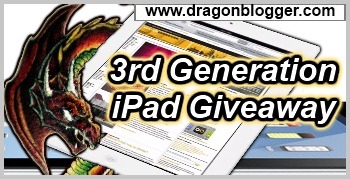 Who wants an iPad 3rd generation? Did I hear you just say, "I do!"? Well, here's your chance to win one from Dragon Blogger.
The prize is a 16GB White iPad 3rd Generation Wi-Fi only. This is the latest iPad with the A5x quad core processor, retina display 2048×1536 resolution. It has a 5mp camera which does 1080p video recording and also has built in Bluetooth. This device has a greatly improved camera over the iPad 2 as well.

The contest is open till May 31st so if you want to join, you can do so via the Rafflecopter below.