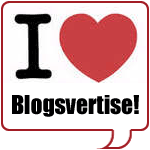 When I wrote about the 6 Ways to Earn Online Through Blogging, I mentioned about writing paid posts.
One of the sites where I personally am member of and I've been earning for years already is Blogsvertise. They offer sponsored blog reviews, guest posting ads, banner ads, text links ads and inline advertising.
To join Blogsvertise, register your account and blog with them. An administrator will review your site and upon acceptance, you can add more blogs for review and approval. You will receive emails when you have new tasks or assignments or you can log in to your account to check if grab bag tasks are available.
Blogsvertise is open to both bloggers and advertisers alike so if you are interested, here's the link again: Blogsvertise or you may click on the banner above.